Strategic Objectives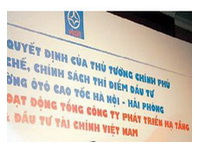 - Focus on the investment in construction of the Hanoi - Hai Phong Expressway Project in such a way as to ensure the progress and quality; investment in construction of the accompanying infrastructure projects (industrial zones, towns, service areas, etc.)
in seeking to bring into full play the potentialities of the localities where the Expressway passes through and recover the capital for the Hanoi - Hai Phong Expressway Project.
- Step up investment in finance, securities, real estate and other projects so as to make full    use of the advantages brought about by the shareholders.
- Promote investments in the foreign countries to extend the scope of business operation of VIDIFI.
- Establish strategic relationships with major local and international economic groups and financial organizations for joint development.
- Build VIDIFI into a large-size company with well-known brand name and strong financial capacity;  enhance  business effectiveness and efficiency and sustainable development; assemble  a team  of highly qualified professionals; professional operations; streamlined  organisation, advanced   management   capacity,   financial transparency;   reaching  out  to  the  world  market  and international integration.